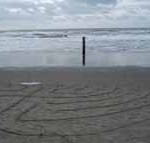 In response to the earthquake in Haiti on January 12, 2010. For more information about this disaster click here.
We would like to implement the Global Healing Response in reaction to the horrible earthquake in Haiti.   As you might remember from previous Global Healing Responses (Katrina, Myanmar), the GHR is an international effort through which countless labyrinths will be made available worldwide for people to walk, as they pray and discern how they might contribute to the emerging recovery solution for the country of Haiti and the Haitian people.
We have chosen Friday, January 22, 2010 for us to do our walks.  The power of us walking together with the intention and energy of healing will, without a doubt, be impactful to those suffering.  With that said, if that day is not convenient feel free to choose a time that works for you and your community.  Because the pain and struggles will continue in Haiti, it might be appropriate to allow more time than just one day for the walks. 
I have attached a prayer (GHRHaitiPrayer) written by The Rev. Warren Lynn that we can all use and hand out to walkers: This will be our unifying energy, yes?    We learned during our Hurricane Katrina response that those outside the Veriditas labyrinth community—and even beyond the labyrinth community—wanted to participate.  Hopefully that will be the case this time, too. 
Remember, never underestimate the power of the labyrinth AND unified healing energy!
_______________________________________________________________
Over 27 facilitators led walks all over the world in honor of the victims of the earthquake.
_______________________________________________________________
Labyrinth Prayer for Global Relief to Earthquake Victims
January 15, 2010
by Warren Lynn
Amidst pain and suffering and loss and injustice beyond our words and feelings,
we bring ourselves into the intimate presence of holiness
— to ask and argue and doubt and cry.
And when all is said, and all is thought, and exhaustion replaces the raw energy of our grief…
…finally we let our quiet breathing replace what keeps us from letting Shalom, Salaam, Peace have its way with us. Indeed, now, breathing in Spirit feeds our spirit; breathing out Spirit cleanses our souls.
Breathing in feeds — breathing out cleanses. Breathing in — breathing out.
True inspiration!
Tonight, we find strength in our breathing to abide in each new step; one after the other.
Tonight, in our breathing and our walking,
we experience the intimate presence of holy sustenance along the way toward a more-focused compassion.
Slowly, we begin to seek less after answers about why this has happened.
More and more, we begin to ask, "how can we help?"
"What creative solution can come from our gifts?"
"Who are we, who am I, to be used for healing, reconciliation, new wholeness, generous comfort…
…for those in places like Haiti wherein lives have been undone by the mysteries of creation's ways.
So, let us listen for Spirit in the deepest places of our living.
Let us acquaint ourselves with holy possibilities within our own lives.
Let us affirm and confirm our ability to bring a new light of relief and recovery
into the presently darkened holes of grief and pain across our world, and even next door;
…into the life of each of our neighbors, even those in Haiti.
________________________________________________________
Reflections from Walks for Haiti
Friday, January 22, 2010
Veriditas Global Healing Walk for Hatai
Lea Goode-Harris
Santa Rosa, CA USA
It is dark,
wet,
and cold here…
I am alone…
I step forward and light
the heart space…
blazing light sizzles in the damp night
connecting me in circles ever expanding
as I step onto this lone path…
I walk in silence,
my heart full of thoughts
of those who's night is ever deeper,
where even though the sun shines…
their despair reaches…
searching for meaning to a world turned upside down,
shaken and broken…
their humanity seen by those who will look…
Walking this path…
I reach back, touching the hands of those walking
around the world,
weaving our love to hold that which is no more,
to that unknown
where all life ends and begins again…
Asking for compassion,
humility,
sustenance,
love,
healing,
recognizing our face in other,
being present with this step,
and the next…
holding our light,
gently…
so others may find their way home…
One More Miracle on the Path
  It was late. The walk had ended. Just before the labyrinth was folded away she was seen peering through the glass door at the sign publicizing the Compassion Labyrinth Walk for Haiti. The church was a strange place for her; she was not a member and had never been there before. In fact, in so many ways, OrcasIsland remained unfamiliar to her. She had only been on the island four years and didn't get out too often. These were not her people; and besides, she had never walked a labyrinth before. It seemed perhaps better to gather round her the uneasiness, doubts, and fears that had become her companions of late and turn away from the church. As she walked down the street, Cheryl ran to catch her and asked had she been wanting to walk the labyrinth? Without hesitation the visitor blurted out, "Yes."   Later, as the young girl finished her walk, she was delighted at the invitation to help fold the labyrinth.  When asked if she had a connection to Haiti, Rosedanie replied, "Yes, I am Haitian.  I have just returned from visiting my family." "What has this week been like for you?" she was asked. "I have not as yet been able to get any news of my family. I am planning to return in a few weeks once I am able to find a group to go with." Knowing she is a cook in a tiny local eatery, I silently wondered about the sacrifices she might have to bear in order to travel the thousands of miles back to her land, now a devastated place of pain and unknowing.   Once again, the path continues to unfold, encircling yet one more grieving heart desperate for comfort and relief from the pains of this transitory life. The labyrinth remains silent, strong, and eternal as it continues to heal, one person at a time.
Nancy Ayer Orcas Island, WA St. Croix, Virgin Islands
Follow up to the above story…. Well, Rosedanie leaves Orcas today and will be in Seattle and New York before going on to Haiti on February 10th.   I don't know if you're on the island, but in case you missed it, she was written up in the Sounder this week.  I thought you might enjoy seeing this: http://www.pnwlocalnews.com/sanjuans/isj/lifestyle/82307792.html Teri Williams and her husband Jay, who are Rosedanie's landlords, were kind enough to waive her rent for the month she will be in Haiti.   And others have come through for her; it's been very inspiring. Of course this is just a beginning for this project, and she is going to be able to bring along a building contractor and a permaculture specialist to help organize the people in the village, and another professional project manager to help too.  She is one mover and shaker!
Just a quick note to let you know that we did have the Global
Labyrinth Walk at the Nelson Cathedral on Friday the 22nd.
One woman, who is a friend of local woman, Emily Sanson, who lost
her husband and two daughters in the earthquake in Haiti came to do
the walk. (Emily's husband covered their two year old, and she
survived, but he and two other daughters didn't. Emily is still in
Florida waiting for rescuers to find the third daughter's body, and
hopes to return to Nelson, soon.)
Another gentleman, who goes to the local Sea of Faith group came
along. The others who did the walk were visitors to the area and
when I explained why there were candles around the labyrinth, several
of them did walk. One woman from Germany, who couldn't speak English
did walk, after her daughter explained it to her. We did have
thirteen people walk that afternoon. The local newspaper did send a
photographer on the day, and I did get a call from a journalist the
next morning. So there was a report, after the fact, in the local paper.
Nancy Sayer