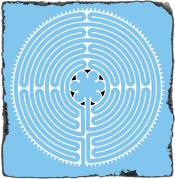 Below is a format for a labyrinth walk that we developed to follow the event One Billion Rising. When women gain the courage to rise, when women "break chains," wounds are opened. To move forward and make progress, we must take care of each other. We must heal each other. So, the next logical step seems to be to pause, be sure we are on solid footing and offer a venue to integrate grief, forgiveness, fear and rage. Please consider offering a labyrinth walk in your area of the world….
Global Healing Response to Violence against Women, Children and Families
In cooperation with Veriditas, Global Healing Response
V-Day, One Billion Rising
Quote
"When you bring consciousness to anything,
things begin to shift." —Eve Ensler
Color
(to be determined)
Prayer
Holy ones of being fill us with your mercy and love as we open ourselves to healing the wounds of violence and abuse against women in this world.  Let us channel the fire of outrage into the warmth of many healing hands so that our sisters near and far and our beloved mother Earth are bathed in love both human and divine.  As we walk the healing path of the labyrinth, let each turn remind us of the possibility of transformation.  Inspire us to action to heal the broken and enrich the whole.
—Judith Tripp
Blessing
May you be blessed with a wise and compassionate guide who can accompany you through the fear and grief until your heart has wept its way to your true self.
As your tears fall over that wounded place, may they wash away your hurt and free your heart.
—John O'Donohue, To Bless the Space Between Us
Ideas for benefiting organization:  10% of your donations should go to V-day. The rest should be allocated to a Women's shelter or other organization that assists victims of violence in your area.
Ideas for ambiance around the labyrinth: White candles, white twinkle lights, big pillows around the outside of the labyrinth for comfort, scarves for privacy.
Music
Jennifer Berezan : She Carries Me
http://www.edgeofwonder.com/music-merch/#she-carries-me