Dear Facilitators,
Creating the materials for this quarter has felt like trying to hit a moving target. We began by trying to create a response to all the hurricanes, global floods, earthquake, fires in the upper Northwest and California and the Las Vegas shootings. And now, I must include the hurricane in Ireland.
The GHR was created eleven years ago and we have never had a period of time when so many events happened consecutively like this. After discussing this dilemma with fellow facilitator, Jan Mahood, I wondered if the materials for the entire fourth quarter should be approached like a response. Perhaps we could plan to walk the labyrinth globally on three dates: October 22, November 22 and December 22 at 2 pm wherever you reside.
If you can't plan a community walk, how about doing a walk in solitude or with a friend.  You could even do a finger labyrinth. (click here for a PDF finger labyrinth)
Our world is in great need and, therefore, we are all in need of healing each other; those who are experiencing great upheaval from the disasters and those who look on not knowing how to help. Please take a few minutes to read an article that I feel is very hopeful about what is possible in our community of facilitators. It will show you that we CAN make a difference.
Thank you, again, to Jan Mahood for her help and vision with these materials.
Thanks for all you do to make the world a more loving place.
Peace & Healing,
Ellen
Global Healing Response Quarterly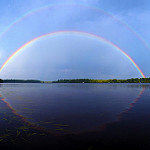 2017 Theme: Love
And now these three remain: faith, hope and love.
But the greatest of these is Love.
1Corinthians 13:13
October-November-December
Focus:  Hope
Quote: Love recognizes no barriers. It jumps hurdles, leaps fences, penetrates walls to arrive at its destination full of hope. Maya Angelou
Picture/Symbol:  Rainbow
Color: White—for bringing in white light of healing, blending of all color
Prayer/Meditation:
As we look to the East each morning, to the rising sun, may we begin again with hope.
May we feel the hope that is sent with each donation given.
May we feel the hope in the acts of the survivors, helpers and heroes.
Renew OUR hope by their strength and courage.
And so, like Hope, we will Rise.
Also, Warren Lynn's "Meditation for Mindful Response To a World in Such Great Need" (click here for PDF version) is great for use during a labyrinth walk.
 Ideas for benefiting organization: The organization that is addressing the needs you feel drawn to, making sure not to forget those organizations that are serving beyond these disastrous events.
Ideas for ambiance: Candles floating on water
Music: "Hope"Native American Flute Music.Gray Fox Flute in Key of "E minor" (https://www.youtube.com/watch?v=wSyLoH7hUUo)
Click here for a PDF version of these materials
Click here for Rev. Warren Lynn's "Meditation for Mindful Response to a World in Such Great Need"