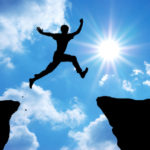 Dear Labyrinth Facilitators and Healers,
I think your calm, trust, love and faith are needed more than ever. Our world is fragile and bent. But with people like you doing the work you are called to, we will not break. These materials are created for your service. I hope you find them helpful.
With gratitude, trust and faith in all you do,
Ellen Bintz Meuch
Founder, Global Healing Response
Global Healing Response Quarterly
 2017 Theme: Love
And now these three remain: faith, hope and love.
But the greatest of these is Love. —1Corinthians 13:13
July-August-September
Focus:  Faith
Quote: Faith makes all things possible… love makes all things easy. Dwight L. Moody
Picture/Symbol: A Leap of Faith
Color: The rainbow
Prayer/Meditation:
Faith is the refusal to panic.
It's the setting of an alarm clock, it's the "see you later."
Faith is in a parent's hand when giving a teenager keys to a car.
It's boarding a plane or bus or boat.
Faith is trusting a vision to the next step. It's a leap.
It's now.
It's fueled by love.
Let our daily acts of faith help us see that we can have faith in our world…
And each other.
Ideas for benefiting organization: Goodwill, Salvation Army, thrift stores—Encourage your walkers to donate or purchase.
Ideas for ambiance: Stones that allow us to stay centered and grounded.
 Music: Chant your Faith: https://soundcloud.com/sama-renuka/10-chant-your-faith
Click Here for a PDF version of these materials