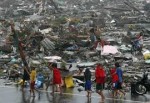 In response to Typhoon Haiyan that hit the Philippines on November 8 , 2013 we would like to implement the Global Healing Response.
As you might remember from previous Global Healing Responses (Katrina, Myanmar, Haiti, Japan, Hurricane Sandy, Sandy Hook), the GHR is an international effort through which countless labyrinths will be made available worldwide for people to walk, as they pray and discern how they might contribute to the emerging recovery solution for the Philippines.
We have chosen Sunday, December 1, 2013 for us to do our walks.  I think many of us might already have been planning walks. But, if that day is not convenient feel free to choose a time that works for you and your community.  Because the pain and struggles and recovery will continue for a while, it might be appropriate to allow more time than just one day for the walks.
Please let me know when you will be having a walk or post your walk on the list serve or as a comment to this blog post so that we can either attend, or be with you in spirit and offer our support. You could also post your walk on the GHR Facebook page.
Below are the documents we have created to simplify and unify this process. (These documents are only meant to help you out. Please feel free to change and adapt them to your style as you see fit.)
If anyone has any other tools to use or has ideas for this event PLEASE contact me!!
I urge you to pass this information on to anyone (or group) who might be interested in participating in the Global Healing Response. We learned during our Hurricane Katrina response that those outside the Veriditas labyrinth community—and even beyond the labyrinth community—wanted to participate.  Hopefully, that will be the case this time, too.
If you collect money during your walks please support a relief agency that you trust.
If you are able to plan a walk PLEASE let me know when and where it will be occurring!  I will help to keep us all current with this information.  Also, if I can help anyone with press information (or any other information) please don't hesitate to contact me.
Remember, never underestimate the power of the labyrinth AND unified healing energy!
___________________________________________________________________________________________
2013 Global Healing Response
Philippines Typhoon Haiyan
December 1, 2013
Healing is a matter of time, but it is sometimes also a matter of opportunity. —Hippocrates
Prayer
Click here for PDF file.
Ideas for a benefiting organization
International Federation of Red Cross and Red Crescent Societies Website:
http://www.ifrc.org/en/get-involved/donate/
or
go to www.whitehouse.gov/typhoon for US government donation ideas
Ideas for ambiance
Clean water in mason jars, green plants symbolizing regrowth. Stones—each inscribed with a word like "strength, love, courage," etc. Walkers would pick a stone and carry that prayer as they walk the labyrinth.
Music
Master Teacher, Kay Mutert, suggested these lovely songs….
Click here more information and translations (PDF).
Requiem by Eliza Gilkyson
http://www.youtube.com/watch?v=ySmoRzotXdA 
Please Call Me By My True Names (Thich Nhat Hanh, Plum Village)
https://ia600609.us.archive.org/19/items/ABasketOfPlums/12-PleaseCallMeByMyTrueNames1.mp3
http://www.youtube.com/watch?v=ley6FLlbcYc
Philipino lullaby: Sa Ugoy ng Duyan
http://www.youtube.com/watch?v=YBvDpg_BUS4
http://www.youtube.com/watch?v=ZGeYwR6Vwtg
http://www.youtube.com/watch?v=f6NDVhdP1AY